ESSENTIALS OF CAREER MANAGEMENT FOR LANGUAGE PROFESSIONALS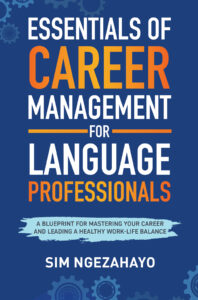 For years, the language industry has been known for its daunting demands. Language professionals work so hard to boost their financial value. Nonetheless, most of us find ourselves struggling to build successful careers and attain timely success. For most of us, the clock is always ticking so much that we race to secure enough investment portfolios before we retire, and we forget about work-life balance. Many young entrepreneurs get stuck as they row across the industry to stand out from the crowd and create successful careers. Can goal-setting and priority redefinition help alleviate this predicament?
The evolution of technology has made the language-service provision even harder for linguists to navigate, let alone rely on. The only hope that remains for language experts in this professional cosmos is to foster, maintain, and rely solely on their competitive edge. With actionable success tips and prompts, Essentials of Career Management for Language Professionals provides a seamlessly failsafe approach to successful mastery of the language career, both at work and in real life.
As a senior business executive, Sim demonstrates through this book how thriving language professionals will succeed based on how well they define their goals, streamline their services, and promote their brands. In this competitive era, being enterprise savvy, harnessing language technology, and sticking with your niche will bring your career success to your fingertips.